Why you sleep better with Pinura
PINURA (PINus cembra lat. for stone pine and natURA) - our name, our philosophy, our life.
Our speciality is the needs-oriented orthopaedic adjustment of the natural sleeping system, which relieves the spine and problem areas and turns the bed into a true oasis of well-being. Regionally manufactured, with the power of Swiss stone pine and made exclusively from high-quality natural materials. An honest, domestic natural sleeping system that works.
Sleep well and live better.
The Pinura sleep system
Adjustment options on all levels result in what is probably the most adaptable natural sleeping system - added bonus: The Swiss stone pine wood used makes your bedroom smell good!
The insert frame - light, flexible and made of Swiss stone pine
In addition to supporting the spring element, the pinura insert frame is also used for individual adjustment. A patented lowering system in the shoulder and hip area provides effective relief. Made of Swiss stone pine and free of metal, it fits into any conventional bed frame.

The spring element - supports and relieves at the same time
Our spring element is no ordinary slatted frame - it is the heart of our sleep system and plays a major role in regulating the sleep. The use of natural rubber in various firmnesses in combination with the Swiss pine slats takes into account weight, body shape and lying behaviour - including the scent of Swiss pine.

The mattress - natural and adaptable
The mattress for the pinura stone pine sleeping system is made of pure natural rubber and is therefore particularly point-elastic, breathable and antibacterial. It is available in different firmnesses and heights (10 cm and 14 cm) for individual adjustment.

The underblanket - for the right sleeping climate
Our underblankets are the finishing touch. Each can convince with different advantages - whether warming, cooling, fragrant or anti-inflammatory, whether washable or for airing - the right underblanket offers added value.

Pillow and duvet - comfort at its best
The pinura chamber pillows offer a significant advantage over conventional pillows - they can be individually adjusted to provide the best possible relief for the neck. The duvet has a decisive influence on the sleeping climate. Every person has different needs and requires a duvet that meets them.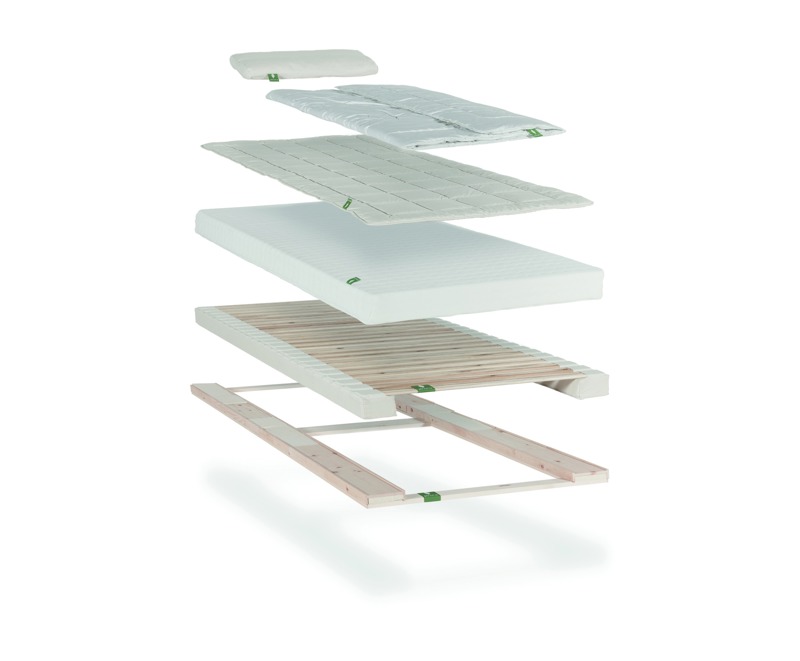 Individual adjustment
The pinura stone pine sleeping system is absolutely individually adapted to your needs. Depending on your weight, height and sleep type, problem areas such as shoulders, back or hips can be optimally relieved. Even afterwards.
Pure nature
We work exclusively with pure natural materials of the highest quality. These materials are free of harmful substances and have exceptionally functional properties. They have a calming, anti-inflammatory or antibacterial effect. Depending on your needs.
Good for the heart
The power of Tyrolean stone pine is unique - scientific studies also confirm this: the calming effect of the essential oils reduces cardiac work. A pleasant side effect is the unmistakable scent in the bedroom. Harmonising for body and mind.
Perfect sleeping climate
Are you allergic or do you sweat easily? Are you often too cold or too warm at night? We can create a balancing sleeping climate. Perfectly tailored to your wishes.
Regionally sustainable
Regional production and value creation are important to us. We rely on local craftsmanship - all woodwork is carried out in Tyrol. This also keeps transport distances short.
Sustainable and ecologically sensible.